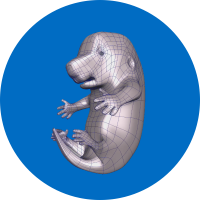 The table below lists the e-Mouse Atlas models that are available on our website. This table is designed to be a quick link to find a Theiler staged post implantation embryo where an anatomical component has been delineated.
Serial section reconstructions are where the e-Mouse Atlas have used serial histological sections to build a 3D reconstruction.
3D is where all sections within the model are delineated. 3D reconstructions can be sectioned on arbitrary plane using the interactive Internet Imaging Protocol (IIP3D) viewer.
Key sections are where some sections within the model are delineated. Once loaded into your browser window, use the arrows (key sections) to display the next key section with anatomy delineation.
The Kaufman Atlas is a collaborative project with Prof M H Kaufman and the publishing house Elsevier. The e-Mouse Atlas group have re-digitised the original and previously published monochrome images from the book entitled The Atlas of Mouse Development and now display the original histological section in colour and at x20 magnification using the IIP3D viewer.

We also host MRI and OPT data sets deposited to the e-Mouse Atlas through collaborations with Caltech and the MRC National Institute for Medical Research (NIMR). If you wish further information on any of our models or have any comments about our website please email emap@emouseatlas.org